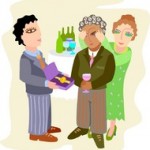 As we age, we often need help with everyday activities. We might also have health conditions that require monitoring or treatment on a regular basis. Seniors who need such services sometimes end up in nursing homes because they have no one to provide them. If you have a loved one who needs some assistance but is capable of living on his or her own, assisted living might be the answer. Assisted living communities provide housing for senior citizens, as well as certain services that they may need. These often include:
Meal preparation
Housekeeping
Laundry
Recreational activities
Emergency services
Assistance with bathing, grooming and dressing
Medication management
Home health services
Assisted...