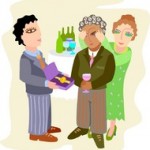 As we age, we often need help with everyday activities. We might also have health conditions that require monitoring or treatment on a regular basis. Seniors who need such services sometimes end up in nursing homes because they have no one to provide them.
If you have a loved one who needs some assistance but is capable of living on his or her own, assisted living might be the answer. Assisted living communities provide housing for senior citizens, as well as certain services that they may need. These often include:
Meal preparation
Housekeeping
Laundry
Recreational activities
Emergency services
Assistance with bathing, grooming and dressing
Medication management
Home health services
Assisted living isn't cheap. This is one of the reasons that many people do not consider it when looking for elder care options. But seniors with a low income often qualify for an apartment in a subsidized assisted living community.
Subsidized assisted living allows senior citizens to obtain housing and services without paying full price for them. They are usually charged a certain percentage of their income, and the rest of the cost is covered by the government. However, those who are receiving government assistance may be eligible for a reduced rate. Some communities may have an income limit. Those communities that do not, have a maximum cost for senior citizens with higher incomes.
In order to live in a subsidized assisted living community, seniors must meet certain eligibility criteria. These vary from community to community, but generally have to do with personal care needs. Basically, they must be capable of living on their own, making their own decisions and communicating with others, but need at least some of the services offered.

Choosing an Assisted Living Facility
As with any other type of housing, there are good assisted living facilities and not so good ones. If you find that you are eligible for assisted living, it's important to check out your options before you decide to move in. Here are some things to consider.
Will you have enough space? If you have a lot of personal belongings, you may have to sell some of them or have someone else keep them for you due to space constraints. However, some communities provide storage space you can use.
What is supplied with the housing? You may have to provide your own furniture and any special equipment needed due to physical limitations.
Do you need to supply cleaning supplies and equipment, or will these things be provided by the facility?
Do you have to pay a security deposit? If so, how much?
Can you keep a pet? Some communities allow small pets, but most will not allow you to keep larger ones.
If you smoke, are you allowed to do so in your room? If not, is there a designated smoking area?
Are overnight guests allowed?
Assisted living is a good alternative to a nursing home for seniors who need some assistance but can do most things for themselves. And for those with limited income, subsidies can allow them access to communities that they might not have otherwise. If you, a friend or a loved one could benefit from such a living arrangement, it is certainly worth looking into.
Tags: assisted living, retirement advice