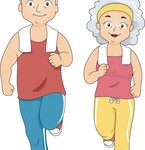 Even as the discussion surrounding Social Security becomes increasingly rancorous, many retirees still rely on the program for a significant portion of their retirement income. In fact, because many people find themselves in a much worse position than they anticipated with respect to their retirement nest egg, Social Security payments sometimes represent a necessary element of their retirement planning process.
Most people already understand that a person becomes eligible to receive Social Security benefits by working and paying Social Security taxes. But what's not as widely known is that spouses of workers may also be eligible to receive Social Security, even if they themselves never pay Social Security taxes.
Here is some retirement planning advice and some lesser known options on how spousal Social Security benefits work.
The Basic Spousal Social Security Benefit. If the working spouse is alive and receiving Social Security benefits, the non-working spouse will first be eligible to receive the spousal benefit at age 62, and will receive the maximum spousal benefit if they first elect to receive it at full retirement age (currently age 67). The maximum spousal benefit is 50% of what the working spouse receives.
Choosing the Best Benefit. While we previously described the spousal Social Security benefit as being available to a "non-working" spouse, it's actually available to any spouse, even if they worked for a portion of their adult lives. While that individual may still be eligible for Social Security benefits based on their own working history, it still might be preferable to claim the spousal benefit instead if that person's spouse is eligible for the maximum benefit.
Claim and Suspend. One technique that can be used to help maximize the benefits available is known as the "claim and suspend" technique. To use the "claim and suspend" approach, once one spouse reaches full retirement age they will file to receive benefits, thus allowing their spouse to claim a spousal benefit. The first spouse will then suspend their original claim, thus earning delayed retirement credits up to age 70. When the first spouse begins receiving benefits again, they will be much higher than they would have been just a few years prior.
Divorced Spouse Benefits. If a marriage lasts at least 10 years, then the spousal Security Benefit may remain available for the husband and the wife even if the marriage ends in divorce. Divorce will not affect the availability of this benefit provided that the divorced spouse is at least 62 years old, still unmarried and not entitled to claim a higher benefit based on their own work history. Note that the other spouse does not need to consent to or even be involved with the process of a former spouse claiming this benefit, and it does not affect their own Social Security eligibility in any way.
These provisions, like all provisions relating to Social Security benefits are subject to change in the future. While it's not likely that Social Security will disappear any time in the near future, it's not unreasonable to expect that there may be some changes in the coming years.
Tags: retirement advice, retirement planning, social security, spousal social security