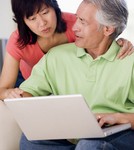 Even though many of the assumptions have changed regarding what retirement looks like and how we act during retirement, one thing has remained relatively constant: the timing of retirement is closely related to eligibility for federal Social Security retirement benefits.
For example, some people begin to consider retiring when they first become eligible for partial Social Security benefits (at age 62). Many others still base their retirement expectations on the age at which they'll receive full Social Security benefits (between age 65 and 67), while still others wait until they can receive the maximum Social Security benefits by deferring their retirement until age 70.
Here's some retirement advice on how to apply for Social Security benefits when you decide the time is right for you.
Eligibility for Social Security Retirement Benefits. In order to be eligible to file an application for Social Security retirement benefits or spousal benefits, the applicant must be in the least 61 years and nine months old, and also want to begin receiving benefits within four months after the application. If either of these factors is not met, then it would be inappropriate to apply for benefits.
Distinguish Other Social Security Benefits. Note that the Social Security program also includes Medicare, and individuals who want to defer receiving their Social Security retirement benefits but began Medicare coverage can make a separate application provided that they are at least 64 years and nine months old. An individual who is at least his age and applying for Social Security retirement benefits will automatically be applying for Medicare as well.
Electronic Application Submission. For most applicants, the easiest and quickest way to apply for Social Security retirement benefits is to apply online. You can visit the Social Security website at: http://www.socialsecurity.gov/retireonline/ to begin your application. You'll need your Social Security number and some basic personal information to begin, and completing the application should take between 15 and 30 minutes total. You can also save a partially completed application if you aren't able to complete it in a single session.
Use the Retirement Estimator to Estimate Your Benefits. Some individuals will want to be able to check their Social Security benefits level with how much they might expect to receive if they deferred retirement until full retirement age, or even up to age 70. The Social Security website linked to above also has a benefits calculator that you can use for this purpose. Even if you're not at the point of being eligible to apply for Social Security retirement benefits, you can still use the online tool to estimate your future benefits. This can be extremely important when it comes to making the most of your retirement nest egg.
The decision on when to begin taking Social Security retirement benefits is one of the most important you'll ever make with respect to your personal finances. The longer you wait, the more you'll receive each month.
Tags: retirement advice, social security, social security benefits