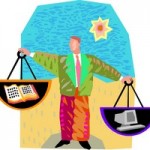 Annuities are life insurance contracts sold by brokers, insurance companies, and other institutions. They are normally bought as a way to invest toward one's retirement. Because it is paid for before a person retires, they can look forward to receiving lifetime payments. If you're considering getting them, here are the pros and cons of annuities.
Those concerned with their financial future following retirement know they can't expect the same type of employer-sponsored pensions that their parents enjoyed. Their only option has been to find other means of saving and one of those options is annuities.
The Pros: Prepaying for annuities before retirement with after-tax dollars means you can look forward to:
Guaranteed lifetime income based on how much you invested prior to retirement
Tax deferred earnings similar to an individual retirement account which is different from other forms of savings
The capital is insured up to $100,000 and sometimes more, depending upon the state in which you reside
Ability to withdraw a 10-15% portion of your savings without having to pay a penalty
No limits to how much you can contribute per year as with other forms of retirement savings
No restrictions on how much you can earn
The ability to switch investments without paying taxes as long as you stay within your contract
A premium for living longer than expected is given depending upon where you live and the contract you own
The Cons: There are some disadvantages to prepaying for annuities prior to retirement. Those include:
High fees and commissions which can affect your return. Be sure to look for no-load or low-load contracts
Being bought with after-tax dollars which means they don't have the tax benefits of some other types of investment
Income from the annuity is taxed as ordinary income rather than being taxed as capital gains
Limited earnings if your tax bracket is between 28 and 39.6 percent and your capital gains tax rate is 20 percent
Difficulties in choosing the right contract because the wording sounds confusing
Penalties, taxes, and surrender charges for canceling the contract early
Paying for life insurance you may not need
Consider how old you'll be when you retire in order to determine how much you'll need to pay into an annuity to receive its full benefits. To ensure you have all the information you need, speak with a financial counselor, tax accountant, or another financial expert. They will be able to look at your current situation and make recommendations based on the knowledge they gain from speaking with you.
Investing for the future doesn't have to be confusing or mind boggling. With help from a professional, you can learn the pros and cons of annuities. Then, after you have listened to sound advice, you can rest assured knowing your financial future is being taken care of.
Tags: Annuities, annuitiy, annuity advice, retirement advice