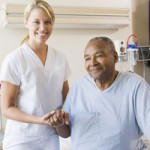 How much of your retirement nest egg have you accumulated to cover health care costs during your later years? According to a recent study, the average 65-year-old couple retiring in 2013 would need approximately $220,000 to cover their medical expenses throughout retirement. For the most part, this figure has increased steadily over the past decade.
As uncertainty continues to loom in the business and political aspects of the health care industry, it's unlikely that this figure will decrease significantly in the coming years. Furthermore, this figure is only an average, so your expenses may be much higher if you experience certain types of health problems or require long-term care.
Here's some retirement advice to help you determine whether you are ready for this retirement expense.
Insurance is More Important than Ever. Making sure you have adequate insurance coverage will be as important as ever during retirement. Unfortunately, once you stop working you may no longer be able to participate in an employer-sponsored health care plan.
Many new retirees are surprised to learn just how much their employers were subsidizing the cost of their health insurance. The true market rates are generally much higher than what many people pay when they're working, and it's important to include these estimated costs in your overall retirement plan.
Supplementing Medicare. If you are simply planning on relying upon Medicare for your health care coverage, then you've still got to include all of the costs that go along with it. You might not have to pay for Medicare Part A (hospital insurance), but you will be responsible for a monthly premium if you elect Part B (medical insurance) coverage. Additional costs – monthly premiums as well as coinsurance and deductible amounts – apply if you elect Medicare Part C (Medicare Advantage) or Part D (prescription drug) coverage.
One growing trend is to purchase a "Medigap" policy that helps retirees pay many of the expenses that the original Medicare plan doesn't cover. Of course, this coverage comes at a price, and you need to be ready for this cost by including it in your retirement plan.
Reducing the Need for Care. One of the best ways to reduce your likely expenditures for health care is to keep yourself healthy. Obviously it would be foolish to assume that you'll never become sick or injured, but you can tilt the odds in your favor by adopting a healthier lifestyle. Many of the health problems that are plaguing current retirees can be traced back to chronic behaviors such as poor diet or a sedentary lifestyle.
As I noted above, your health care costs are going to be different from things like housing or food expenses in that healthcare costs can change much more unpredictably – and because we don't have quite as much control over them. The best approach may be to plan conservatively and try to accumulate as much retirement savings as possible to devote to health care.
Tags: retirement advice, retirement health care, retirement planning