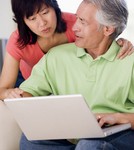 During the stock market turmoil of the past few years, some individuals were reluctant to continue with their retirement investing. The thinking was that because the stock market is so volatile and risky (the downturns of 2008 and 2009 are still fresh in many people's memories), it might be preferable not to invest at all.
But successful retirement planning relies upon consistent contributions over time. Not saving for retirement at all will certainly lead to problems later. For some people, the recent downturns mean that their retirement account balances are still lower than they were before the significant market declines of 2009. Think of 2012 as the year to get your retirement plan back on track.
Read on for retirement advice to get your retirement plan back on track in 2012.
Plan to Maximize Your Contributions. Because retirement investing provides significant tax advantages, it's important to make sure you're receiving the maximum tax benefit. At a minimum, be sure to contribute the amount takes full advantage of the applicable tax deduction or exclusion (as is the case for a traditional IRA or 401(k) account). If your contributions won't be tax deductible (as is the case with a Roth IRA), remember you'll receive favorable tax treatment on the back end. In any case, don't leave these benefits on the table. If you don't think you'll have the cash available at the end of the year to make your contributions, then save the relevant amount each month throughout the year.
Employer Contributions. As a consequence of the financial downturns of 2008 and 2009, many employers stopped offering matching funds for employees who contributed to the company 401(k) plan. As the stock market has come back to greater health, many employers are now reinstating their matching fund policies. If you haven't been taking advantage of an employer match over the past few years, 2012 is the time to do so. Employer contributions are essentially "free money," so be sure to get the maximum amount if possible.
Reevaluate Your Retirement Account Investments. The start of each calendar year is a convenient time to reevaluate your retirement account investments holdings. How have your investments performed over the past year? Are you overweighted in any single stock or holding (including perhaps your employer's stock)? Would your overall performance (especially taking into account investments advisory fees and commissions) be improved by simply investing more in stock market index funds?
Reassess Your Timeframe. How far along are you in your current retirement savings plan? If you are close to retirement, then you might want to reduce your overall portfolio risk somewhat. (But unless you're account balance is high, you probably can't afford to avoid risk entirely – you'll need the chance to earn higher returns with equity investments.) If you are older, you might also be able to take advantage of the higher "catch up" contribution limits.
Retirement planning is an active endeavor. This doesn't necessarily mean that you should be frequently trading in and out of stocks and other investments, but simply that you must pay attention to your account, your contribution levels and how close you are to reaching your goals. Use the coming year to get your retirement plan back on track.
Tags: retirement advice, retirement planning