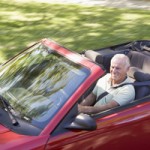 With seniors enjoying longer lives, but having fewer defined benefit pension plans to rely on to fund their retirement years, many are finding creative ways to cut back on their living expenses. Those who haven't been able to save enough to enjoy the type of retirement they once assumed they'd have are now adjusting their lifestyle expectations accordingly.
One way seniors are cutting back is by using a car sharing service instead of owning and maintaining their own automobiles. Because car sharing is still a relatively new industry, it may not be familiar to many of us.
Here are some of the basics on car sharing programs, and how senior citizens might be able to benefit from them.
What is Car Sharing? Car sharing is a business model where members are able to rent cars for short periods of time. Members pay monthly dues which vary depending on the city you live in, your usage level, and the particular car sharing service you select.
Basic Car Sharing Program Membership Terms. For example, Zip Car is a nationwide car sharing chain that offers two membership options. If you're going to rent a car often then you'll pay $50 a month in dues but with no other annual fee. The other option is a low usage plan that has a $60 annual fee but 10% higher rental rates. You'll also pay a fee for each rental.
Other Car Sharing Fees. Insurance, gasoline, and up to 180 miles a day are included in your rental rate; for a Zip Car membership this is around $7 to $8 dollars per hour. You can also pay by the day depending on your needs. Car sharing is so popular that even major rental companies like Hertz have gotten in on the business model. Hertz doesn't require membership but does charge a bit more per hour for their rentals as compared to some of the dedicated car share companies.
Car Sharing Can Save Money for Seniors. Seniors tend not to use their cars as much as adults with families and children, so many of the costs for car ownership and maintenance are high on the basis of miles actually driven. Furthermore, many seniors eventually move into communities where amenities are close enough to walk to, or they take advantage of delivery services. Simply put, a car can be an unwanted and unnecessary expense.
Car Sharing Can be a Good Lifestyle Choice. Many seniors don't want to give up the freedom that comes from owning a car, and a car share program solves the problem. They can rent a car when they need it while still enjoying their freedom and flexibility without the hassle and expense of owning a car.
Car Sharing is Convenient. Seniors are often on a fixed income, yet they want the ability to take a short trip or run errands. Car sharing programs offer that, often with door to door service. Public transportation just can't offer the same convenience as public transportation can be difficult to access for some seniors.
With the vast number of cars in any car share fleet and the growing number of car share fleets, a retiree should be able to access a car whenever they need. This can make car sharing a smart financial decision for active seniors.
Tags: car sharing, car sharing for seniors, retirement advice