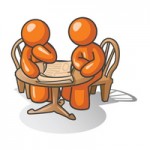 We're all probably familiar with the statistics; more than half of the workers in the United States have less than $25,000 in total savings. Furthermore, the median 401(k) and IRA balance for individuals who are near retirement age is less than $80,000.
Unfortunately, some people read these figures and decide that it must be okay that they haven't saved much for retirement, since so many others are in the same situation. What you need to do is get on-board to do some retirement planning.
The truth is, there are "right" ways to retire, and wrong ways to retire, and having less than $80,000 in retirement savings by the time you reach age 55 or 60 is definitely one of the wrong ways.
Here is some retirement planning advice and tips on how to get on track to retire the right way.
Look Forward and Have a Plan. Having a retirement savings plan makes it easier to save because you have goals to work towards. It's sometimes difficult for some of us to imagine ourselves as retired persons, and this sometimes makes it difficult to focus on the process of saving for retirement, or to sacrifice any present spending just to be able to save more for retirement. It's therefore essential to map out a retirement plan that can help you reach your retirement savings goals.
Be Realistic. Understand the reality of your current situation, and be realistic about how much you can save for retirement. And if it's not realistic that you'll be able to reach a particular level of savings, don't stop trying; just come up with a more realistic goal and work towards it.
Keep Working. While it might sound discouraging, one of the best ways to retire the right way is to keep working past age 65. Keep in mind that by the time we reach our 60's, many of us may have already gone into our second or third careers, and there's a good chance we've finally found a job that we truly enjoy. Don't stop working simply because you've reached a particular age. When you enjoy your work – in terms of the satisfaction it brings, as well as the compensation – keep working. This obviously helps your retirement on a financial level as well.
Anticipate Challenges. Regardless of how well you plan your financial path towards retirement, you're almost certain to encounter unexpected obstacles and challenges along the way. You won't know when these things will occur, but you can make sure that you are equipped to handle them when they do happen. Don't let an unexpected expense or loss of job cause you to throw away your entire retirement plan. Make whatever adjustments and changes are reasonably necessary, but work to stay on track.
Be Flexible. Regardless of the plans you make, there are likely to be unexpected occurrences that force you to reevaluate those plans. It may be worth revisiting your retirement strategy every year or two, just to make sure you're taking the right steps to achieve your goals.
While the prospect of retirement can be intimidating to those who haven't saved enough, by taking a proper approach you'll be able to retire the right way.
Tags: retirement advice, retirement plan, retirement planning, retirement savings