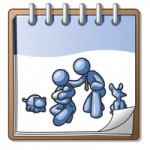 Retirement Planning – 5 Things to Focus on in Your 40's
When you're in your forties, you've probably got a lot of things competing for your attention. Between your family (your spouse and children as well as your aging parents) and your career, you might feel like you have very little mental energy left for anything else.
But this is the time when it's absolutely essential that you find the time and energy to concentrate on the key things that will shape your future. During the decade of your forties it's vital to make sure you focus on the following five items, since each will play an important role in your financial future and your retirement.
Here is some retirement advice on things you need to focus on in your forties in addition to contributing to your retirement accounts.
Maximizing Your Earnings. For individuals in traditional career paths, their 40's are likely to be one of the highest earning periods in their lives. By the time a worker or career professional has reached that age, they've accumulated a sufficient amount of experience to have risen to a position of responsibility, or perhaps to have started their own business. Make solid career choices so that you can maximize your earnings during this decade.
Minimizing The Expenses for Your Children's Education. Parents in their 40's often find themselves facing significant expenses in the form of their children's college education. For many parents, not helping their children pay for college tuition and expenses simply isn't an option, so the best way to avoid a financial catastrophe is to work to minimize those expenses. Consider taking advantage of any pre-paid tuition options that may be offered by in-state universities, and consider opening a tax-advantaged college savings plan if it fits within your overall financial plan. Finally, support and encourage your children to study hard in order to get any scholarships or other merit-based financial aid that may be available.
Avoid Unnecessary Borrowing. In some regards your 40's are a time when the various elements of your retirement plan should start coming together. Your retirement plan should be well developed, you should have good control over your monthly budget, as well as a solid understanding of your overall financial picture. Avoid the temptation to use your strong financial position to "splurge" on any purchase that requires unnecessary borrowing. It would be nice to have a vacation home, for example, but if you have to take out a mortgage and put your budget at risk then buying that second home probably isn't a good idea.
Stay in Good Health. You can greatly improve your retirement situation by keeping yourself in good health. Since the single biggest category of expense for most people during retirement is their own health care, you can significantly decrease what you'll spend during retirement by keeping yourself in good health in your 40's. If you're not currently leading a healthy lifestyle into your 40's, then now's the time to change.
If You Haven't Been Saving for Retirement, Start Today. This advice isn't an exaggeration. If you only have minimal savings for retirement, then it's absolutely essential that you begin the process today. Your financial future depends on being able to support yourself later in life, so it's necessary that you're doing so when you're in your 40's.
By focusing on these things when you're still in your 40's, you'll have far fewer things to worry about by the time you retire.
Tags: retirement advice, retirement planning, saving for retirement