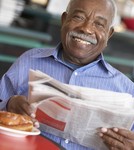 The majority of the planning that we do for our retirement years involves various aspects of finances. We focus on paying down our debts, putting our children through college without breaking the bank, and accumulating enough of a nest egg that we'll be able to continue living comfortably even after we stop working.
But there are other aspects of retirement that we should be considering besides just personal finances. One important aspect of retirement is where we'll be living, and whether we'll need assistance with certain aspects of our daily lives. Most often this means home care or some type of assisted living or retirement center situation.
Here are some pros and cons of home care versus assisted living facilities.
What is Home Care? Let's first take a look at the concept of home care. This is sometimes also known as "in-home care," "social care," or even "domiciliary care." At its core, the idea is for the retired person to continue living in their own home, and to receive care in the home from various professionals and service providers.
The types of services that can be provided in a home care setting range from non-medical professionals who provide domestic services (help with errands, transportation, shopping, meal preparation, companionship, etc.) to health-related services (which may be provided by physical therapists, massage therapists or medical social workers) all the way up to full medical care provided by doctors or nurses.
Home Care Pros and Cons. The most significant advantage of home care (regardless of the level of care) is that they individual gets to remain in their home. Apart from the possible financial advantages, there are significant emotional pluses to being able to remain in one's own home. And emotional health is strongly related to physical health – particularly in seniors.
The primary downside of home care is the fact that the caregivers are not located close by or always on call. This may not be particularly significant for someone who only needs non-medical home assistance, but it can be a problem for seniors who anticipate needing a little more medical attention.
What is an Assisted Living and Retirement Centers? Assisted living facilities and retirement centers are what traditionally come to mind when we think of someone needing help during their retirement years. These facilities can vary in terms of their size and residential formats, but all of them involve the retiree leaving their home and moving into a separate facility. Different facilities also have different levels of care, from on call or occasional assistance, all the way up to round-the-clock medical attention.
Assisted Living and Retirement Center Pros and Cons. Assisted living facilities and retirement centers are more appropriate and safer for individuals who need a higher level of care. Even retirees who are relatively independent can benefit from the social aspect of living in a retirement center.
On the other hand, these types of facilities are often much more expensive than many individuals can easily afford. There may be certain types of government assistance available, but in many cases the total financial burden is simply too high for many retirees.
When moving into retirement, there are different choices available for those who need assistance in their daily lives. The marketplaces for home health care, as well as assisted living centers, are both growing, so retirees will have many choices going forward.
Tags: home care, pros and cons retirement, retirement advice, retirement center, retirement living