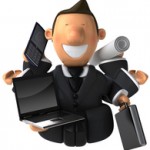 Entering retirement means different things to different people. For some, simply finding enough activities to keep themselves busy turns out to be a bit of a challenge. Certainly many retirees enjoy traveling and visiting family, but these activities usually do not provide enough to completely fill their days.
Sometimes the shift into retirement turns out to be bigger than expected. Without the structure of a full-time job, or children to take care of, some retirees can feel a bit lost in terms of how to keep themselves active.
If you're finding this to be the case as you move into retirement, here are some suggestions on how to stay busy during retirement.
Keep Working. Just because you're "retired" it doesn't mean you can't still work. Many times the working environment for a retiree won't be as stressful as demanding as it was for them pre-retirement, but that doesn't mean it can't be challenging or stimulating.
Start a New Career. Of course, keeping yourself active in the workforce doesn't have to mean doing so on a reduced schedule. In fact, some retirees use their time (as well as their sometimes significant retirement nest eggs) to start a completely new career – perhaps something they wish they had pursued earlier in life.
Volunteer. Many retirees find great personal satisfaction in volunteering within their communities. With shrinking educational budgets, many schools and school districts are welcoming retirees who wish to volunteer as teachers' assistants, library aides or even crossing school guards.
Learn. You might be surprised that many institutions of higher learning offer free or reduced price classes to senior citizens. Many retirees use their free time as an opportunity to learn more about a subject that they might not have had the chance to study when they were working full time.
Take Up a New Hobby (Or Dust Off an Old One). A lack of mental stimulation is often one of the most common complaints among retirees. Fortunately, the greater amount of free time permits you to take up a new hobby. Think of something you've always wanted to do or try, or perhaps a new sport that you've never really had time to focus on before. Golf is always popular, of course, but as more retirees enter their golden years in better health, an increasing number are choosing to take up tennis, bicycling, swimming and fitness walking.
Focus on Your Health and Well-Being. After decades of putting the health of your kids before your own, and perhaps even sacrificing a bit of your own health in order to work long hours to support your family, retirement can be a time to focus on your own health and well-being. Now you have more time to spend on exercise and cooking healthy foods for yourself.
Don't commit to doing something just because other retirees are doing so. Start any new pursuit gradually, and see what works best for you.
Tags: retirement advice, retirement planning, staying busy retirement