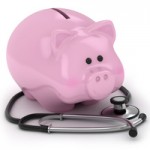 If you've taken charge of your retirement future then you'll spend thirty or forty years saving money for that wonderful day when you stop working. Once you retire you're done saving, right? All you need to do now is sit back and enjoy your golden years. While it's certainly a good idea to enjoy the rest of your life, it's also generally important to continue trying to save money and budget your finances during retirement.
It's important because you don't know how long you're going to live, or how health care expenses are going to impact your retirement nest egg.
Here's some retirement advice on a number of steps you can take to cut back on your expenses while still living comfortably.
Downsize Your Home. Chances are good that you don't need the same size living space in your retirement as you did when you were working and perhaps had a large family. Look for a smaller and less expensive home to move into. Depending on your individual situation, consider whether renting a home makes more financial sense than buying a new residence. Also consider low-maintenance condominiums and townhomes instead of limiting yourself to just single family homes.
Relocate to a Less Expensive Area. When you downsize, consider moving to a less expensive part of the country, or perhaps even to another country. Many foreign countries offer exceptional health care programs at very reasonable prices, and have a much lower overall cost of living for seniors.
Sell Your Car. Instead of incurring costly car insurance, gasoline, and repair expenses on your automobile, consider selling your car and utilizing public transportation or taking part in a car share program. You can enjoy nearly the same degree of freedom without the significant cost, and without the hassle of worrying about routine maintenance duties.
Take Advantage of Senior Discounts. In addition to the well-established restaurant and entertainment discounts, retirees can often save big on travel expenses. Familiarize yourself with the variety of senior deals, last minute deals, and off season travel packages that can help you make the most of your retirement savings.
Re-evaluate Your Insurance. In addition to homeowners insurance, retirement is also time to re-evaluate your life and health insurance coverage. You should consider dropping or reducing your life insurance coverage if appropriate, and make sure your health insurance is strong enough to take care of you in the event of a health emergency. If you don't have group health insurance available to you at an affordable rate, the AARP offers group health insurance and you can investigate individual policies online.
Retirement is a time to enjoy your life. But it's also a time to continue managing your money wisely. Take a look at your options, create a budget and enjoy your golden years in stress free comfort.
Tags: retirement advice, retirement planning, saving for retirement